Since he was a teenager, Prince Harry has been one of our favorite members of the Royal family. He has always stood out, and that is why the world loves him. Recently there has been a video circling the internet that, and fans of Prince Harry have begun to feel worried about him. Although no one knows the whole story around it, fans have again started pointing the finger at Meghan.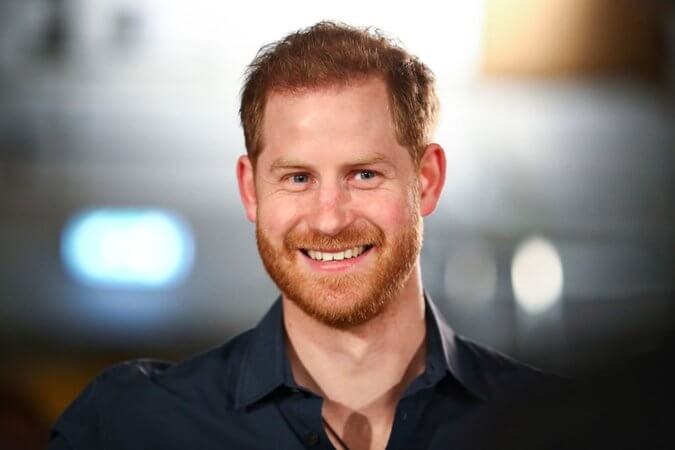 We all know how strict and what values the Royal family has, yet Harry brings something new, some new form of charisma that no one in the family has ever shown. You can almost see some traits that his mother, Princess Diana, had. He has always been charitable, and sometimes he knows to throw in a joke or two.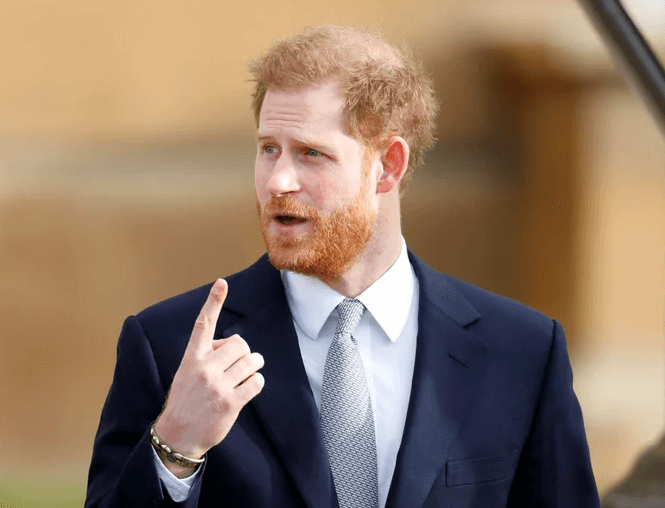 He became even became more popular a couple of years ago when he announced his love for Meghan Merkle. From that day, people wanted to know more about his personal life. And you could find articles from news outlets all over the world.
If you didn't know already, the couple met through a mutual friend, who thought that they would hit it off immediately. He set them on a blind date back in 2016 and was right about them. After the first date, they were spotted having two more dates later in London.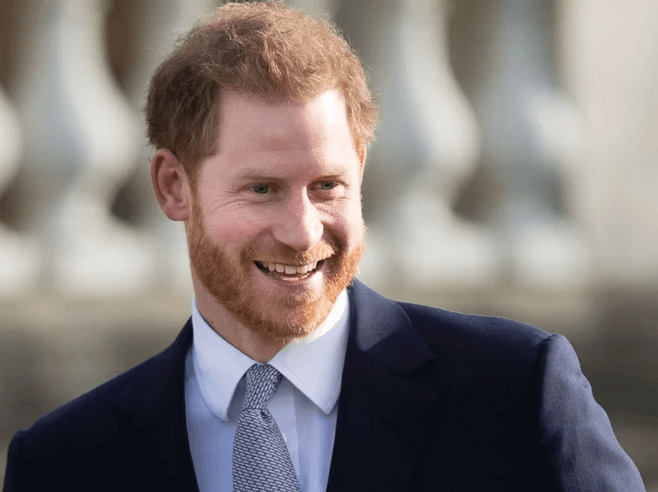 After hiding their relationship for some time, in 2017, they came out and wanted the public to know about them. Meghan was instantly thrown in the spotlight. Even though people knew her from her role in the TV series 'Suits,' she was overwhelmed by the fame she was experiencing.
Quickly after they made their relationship public, the world fell in love with them. Few months passed, and fans even got more good news. The couple announced that Harry had proposed to Meghan and that they would be getting married. Later, in May 2018, Harry and Meghan were officially married.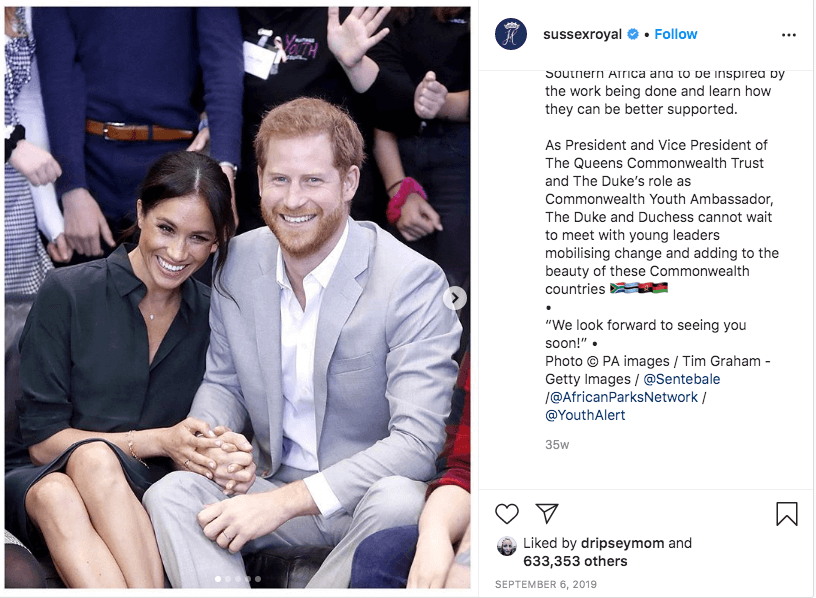 Later that year, in October 2018, they were excited to share with the world that Meghan was pregnant. And on May 6th, 2019, the Duke and Duchess of Sussex, welcomed Archie Mountbatten-Windsor into the world.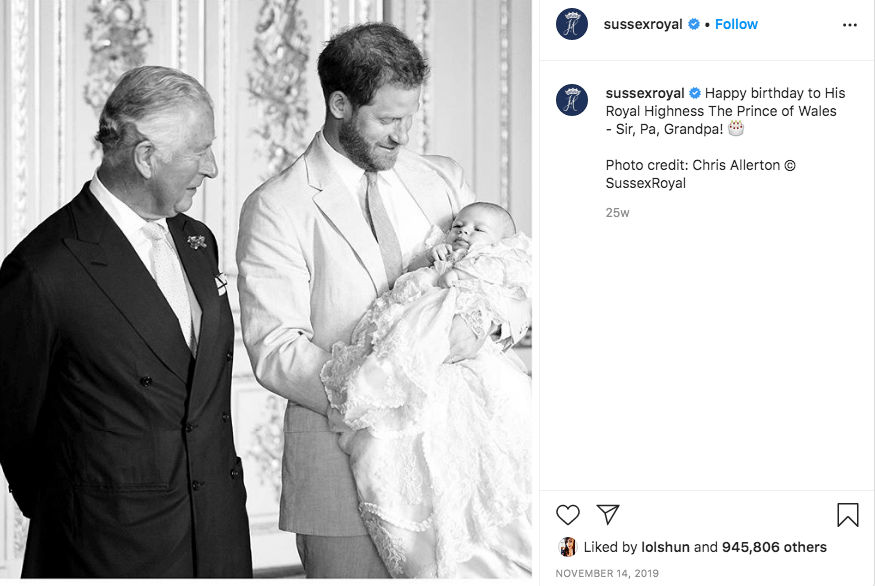 From our outside perspective, it all seemed perfect. Still, only Meghan knows how hard it must be getting into the Royal family. She had to give up her previous life and solely focus on the things the monarchy did. Many people weren't happy that she was a part of the family. It has even been speculated that some of the family don't like her. Because she is American and a woman of color, some news sites have been brutal and have said some pretty ugly things about her.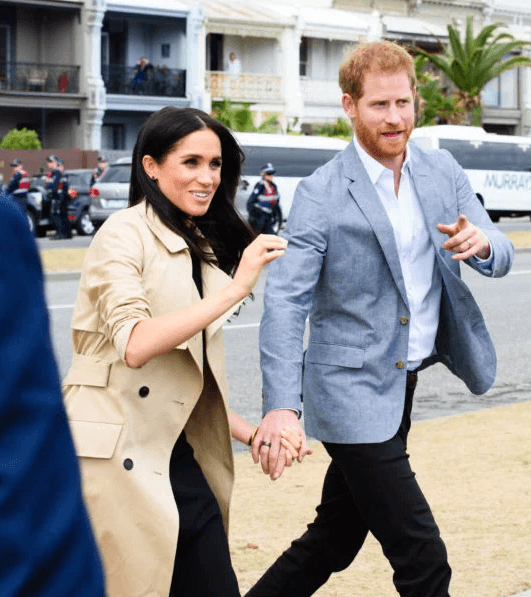 It was getting pretty bad, and Kensington Palace had to issue a statement, telling the press and the public to turn it down a notch when it came to Meghan. Of course, some news outlets and ordinary people kept harassing Meghan, so the couple decided that it was enough.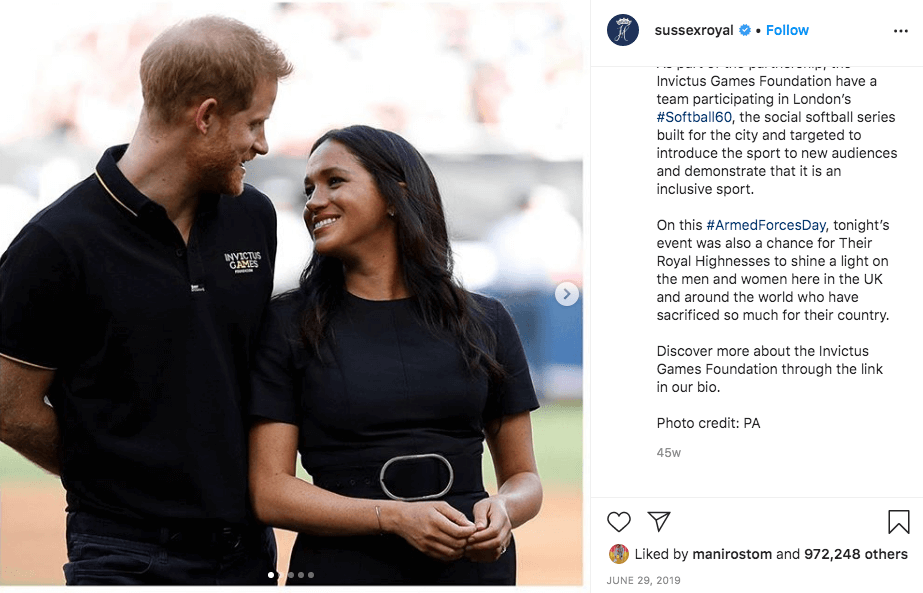 After thinking it through, the couple announced that they would be stepping down as senior members of the Royal family. The announcement was made on their joint social media page, Sussex Royal.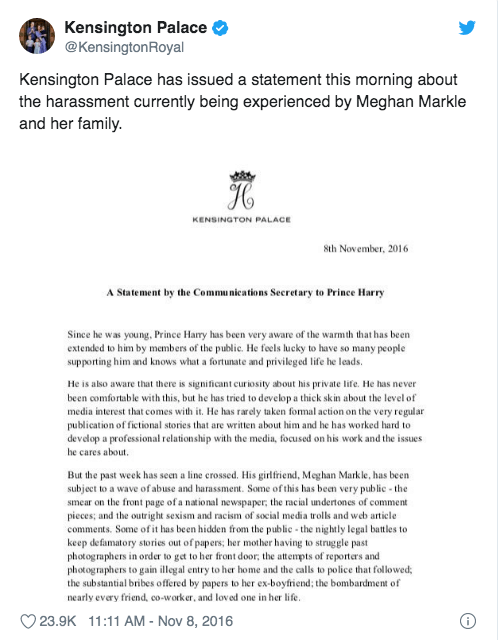 The statement said that after some months of tense discussion, they had decided to make a transition. They said they were going to step down as senior members of the Royal family and try to become independent. They would continue to fully support the Queen.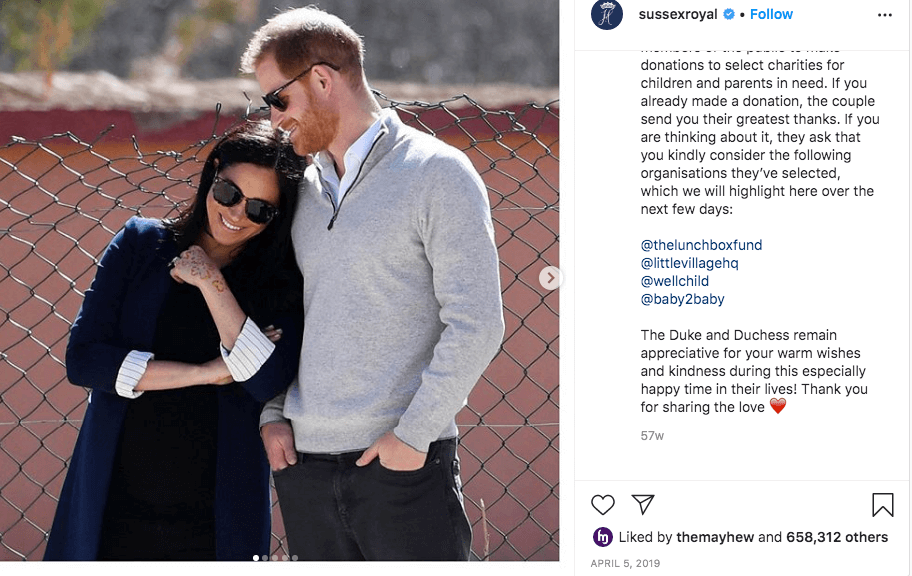 They had also mentioned that they would be spending equal time in the UK and in North America. They made this decision because they wanted their son to have a more normal life while educating him about the family he was born in. They would also have more time and space to plan out their next chapter in life, which was the launch of their new charity.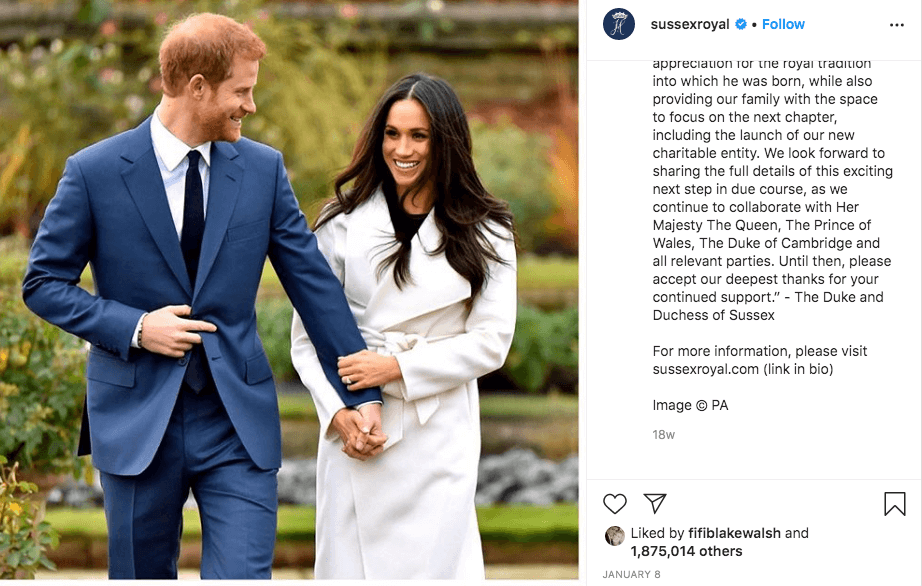 This announcement shocked the world. Even people in Buckingham Palace were surprised about their decision. What everyone didn't realize immediately was that this whole process had to be difficult for Meghan. After the public had the time to process it all, the majority of people on social media had positive things to say, and they only wanted the best for Harry, Meghan, and Archie.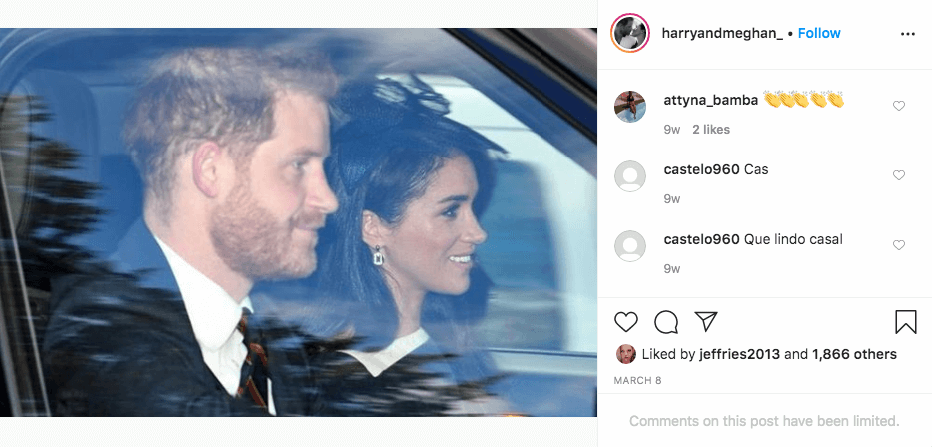 Today, the couple and their son live in Los Angeles, they are isolating, and it seems that they are going to stay there for a while. Just this past week, Archie celebrated his first birthday. He spent the day with his mom and dad at their new home in the US.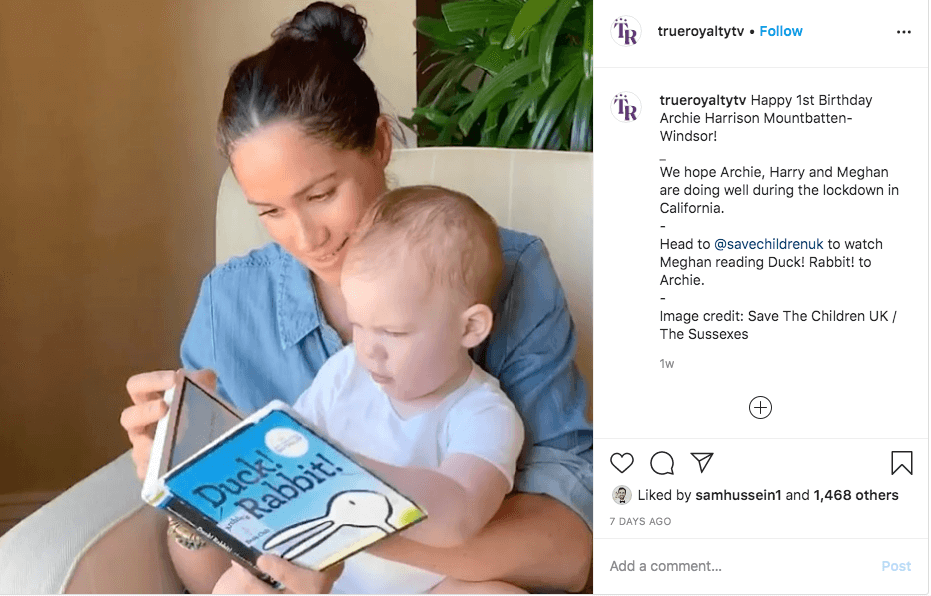 Birthday messages followed, and even the Queen herself sent one wishing her eight great-grandchildren a happy birthday. William and Kate's message followed not long after. Charles and Camilla wished a happy birthday to Archie with a beautiful throwback photo attached to the message.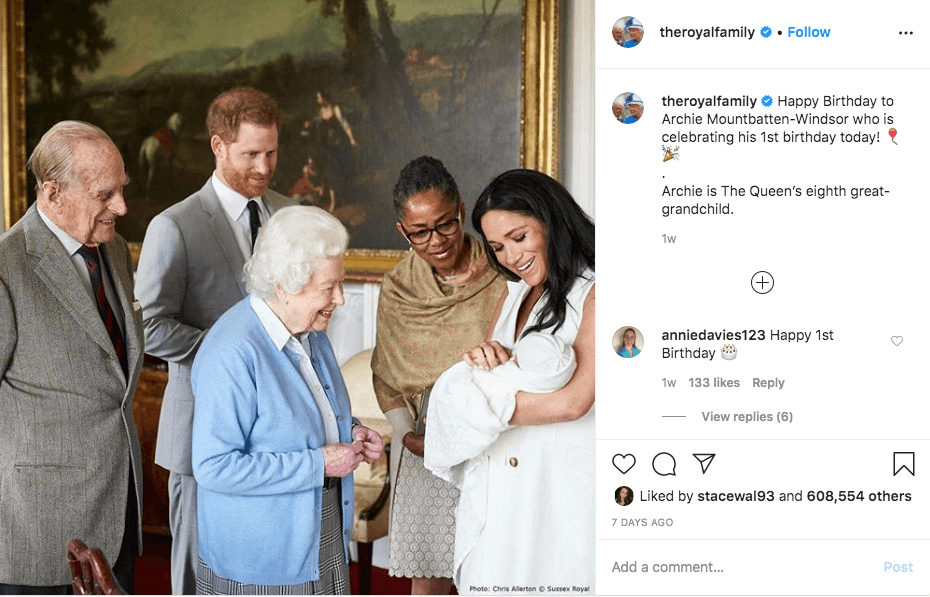 But the message that everyone was talking about and loved was a video that Harry himself, posted of Meghan reading a book to Archie. One the video, you can see Archie sitting in his mother's lap giggling as she reads him the story. Meghan looks so stress-free and finally as a normal mother.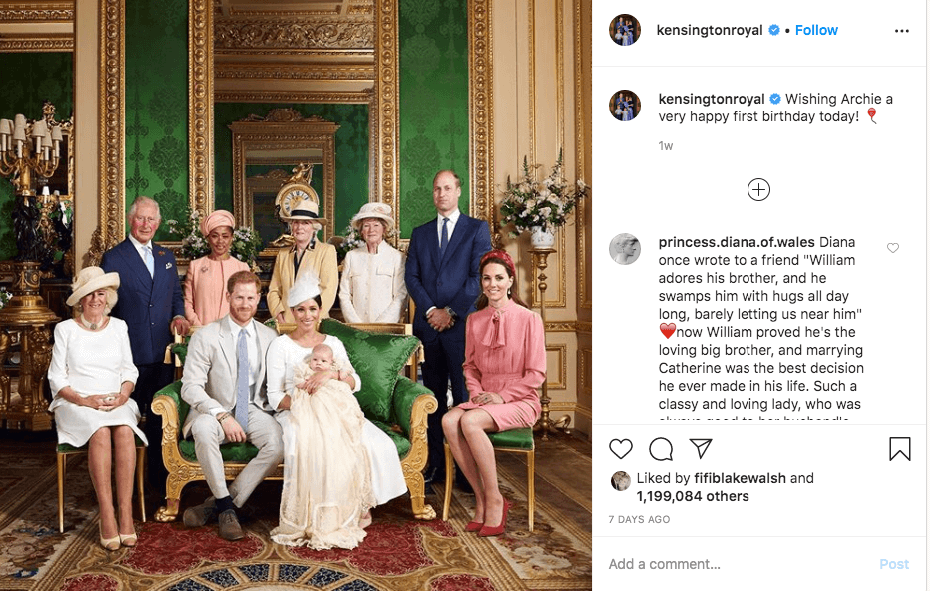 Something that people noticed right away is that throughout the whole video, Harry is making funny noises behind the camera, trying to make Archie laugh. You can hear him say 'Quack! Quack!' and then laughing too. So many people have been sharing and commenting on the video because this was the latest they have heard and seen from them.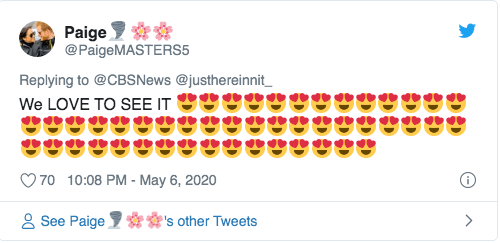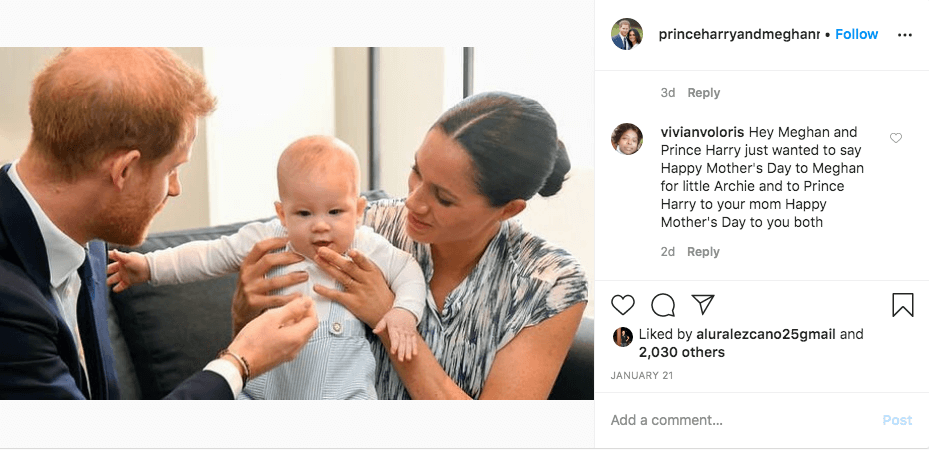 From 2014, Harry has been the founder and a patron of the Invictus Games. They were supposed to be held this past weekend but have been postponed due to the pandemic.
Harry has come out and said that he was so excited about the Invictus Games. Unfortunately, because of recent events, they had to be postponed. He talked and praised the sick and wounded veterans that have been coming to the games throughout the years.
He also sent a message to all the people that were coming to the Invictus Games, saying that he wants people to continue to look out for each other. He added that he is continuously receiving beautiful messages and stories from people who have been connecting through online platforms. People need to be there for each other, now that times are hard.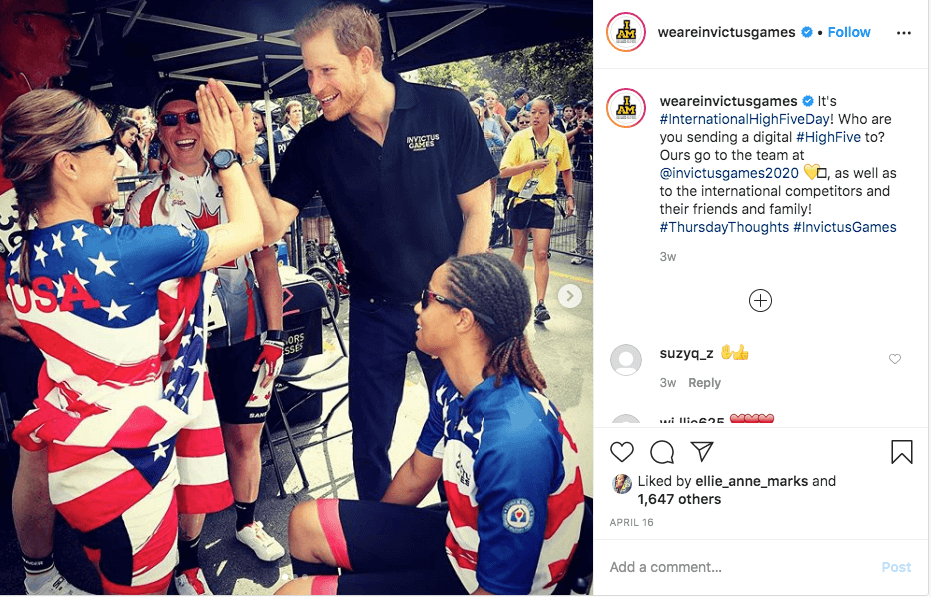 Even though fans have seen all these positive messages that Harry has been sending and posting, they started to express some concern for him. One online user has written that he looks like too much stress and pressure is on him. Having to step down from his position and wanting to be a good husband and father can be a little too much for someone.
Another fan started blaming Meghan for the whole situation, saying that she only wanted to get back to the US so she could continue her acting career while leaving his life behind. Others have said that he looks like he wants to go back home and that he has only been feeling lonely and sad now.
The thing that people keep forgetting is that no one is stress-free in a pandemic like this one. As a matter of fact, being a young couple and raising their first child is hard enough, plus having the pressure of being a royal isn't easy as well. This has nothing to do with Meghan, it is just a hard time to be a young parent.
Since the couple has been married, they both have worked on their royal duties. Meghan has been traveling all over the world and making royal tours. Even when they had their baby, it didn't stop them from working tirelessly and fulfill their role. People have fallen in love with all the hard work that Meghan has been doing since she became a part of the family. Her work for feminism and women's charities are just some of the fantastic things that she has been doing since the beginning.
But also since the moment Meghan entered the family, criticism came in as well. Some ridiculous reports came out that Meghan was acting like a 'diva' in the palace. It was even reported that some of the servers that have been working there have quit their jobs because Meghan was so high-maintenance, and they couldn't keep up with her demands.
No one knows where these claims came from, but they are surely not reliable. Nevertheless, these kinds of reports have traveled all across the globe, and every newspaper that could get their hands on information like that was publishing it.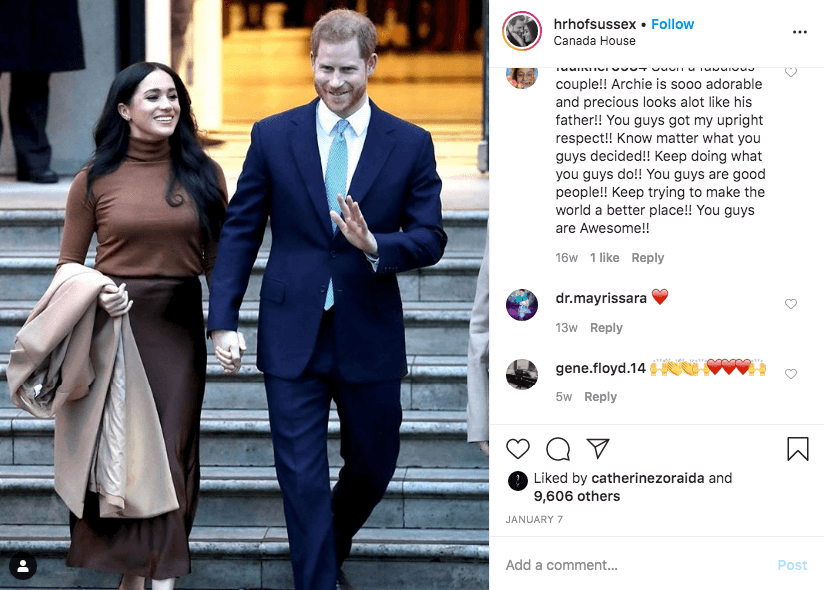 Some people even complained about the Duke and Duchess traveling via private jet. Climate change was a big topic before the pandemic. Many people started to notice that the couple would travel from one place in England to another with a private jet. Branding that as wasteful and an unnecessary method of traveling, people started to accuse them of damaging the environment. And most of the time, people would blame Meghan for everything, never mentioning Harry.
It wasn't better news when it was reported that the couple spent almost 2.4 million pounds on refurbishments of their Windsor home. British taxpayers were outraged that so much money had to be spent on that.
People went far as criticizing her parenting skills. Some photos were posted online, showing Meghan weirdly holding Archie. Let it be known that every mother will have this struggle, and it is perfectly normal. Making fun or criticizing a new parent is just uncalled for, and from that point on, it was obvious that the media was just out to get Meghan.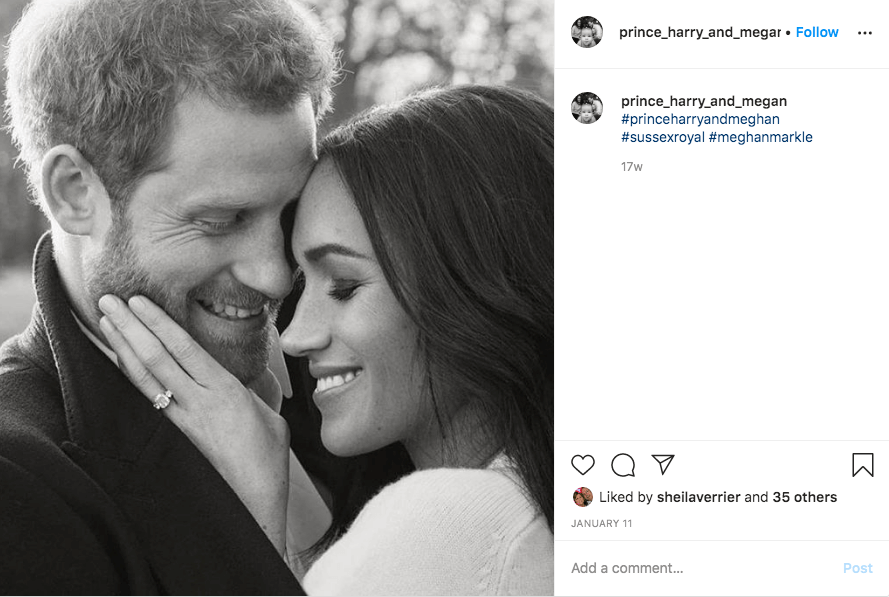 A documentary has aired where Meghan was asked questions about how she has been handling day-to-day life as part of the royal family. She was asked questions regarding the responsibilities that she has, not having any privacy and all the rumors that the media had been continuously reporting. Meghan said that even if she started to describe the day-to-day life, no one would understand how hard it could be. She also said that she tries to take every day as it comes and hopes that the next one will be better. It looked like Meghan was holding back tears when she was trying to explain that she was trying her best to adopt the British sensibility. She was trying to keep everything inside of her and not looking like she can't do her job. But she also added that the only thing that you end up doing to yourself is damaging your mental state.
She also wanted to say that she knew that what she was stepping into wasn't going to be easy. But she hoped that people would be fair to her. She said that the media have not been fair to her. If she has done something wrong, she would have been the first to admit her mistake and apologize. But when people start making up stories, and you are telling them that they aren't real, but they still go on and post everything. That is where you feel betrayed. The whole interview took a heartbreaking turn when the presenter asked Meghan that it was safe to say she wasn't alright. Meghan, with a heavy heart, replied, yes. But she added that even though she isn't at the right state at the moment, she has her child and husband that make everything feel much better. After everything was done, Meghan even thanked the presenter for asking her that question saying that not a lot of people ask how she is doing.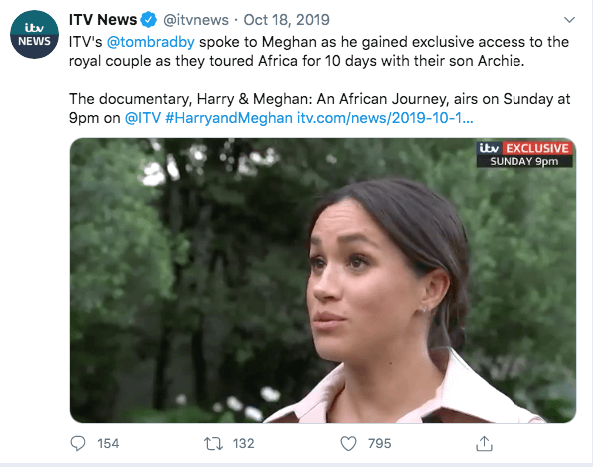 After the release of that video of Meghan's interview, people from every corner of the globe went on social media to give all the support they had. Some even went a step further of slamming the people and newspapers that have been abusing Meghan throughout the beginning of her time as a Royal family member.
After all of this happened, the couple it seems had enough and announced that they would be stepping down as senior members of the Royal family. The official announcement was posted on their Social media page saying that after months of discussions, they have decided to step down. They wanted to become financially independent while continuing their support of Her Majesty The Queen. They also said that they will travel from the UK to America always so they could honor their duty to the Queen, the Commonwealth, and their patronages.
They want to raise their child, knowing that he is a part of something big, and they also wish to work on their next chapter in life, a part of which is launching their new charity.
This news was huge, and it was bound to create controversy. They said that they will share their more details about their next steps in life and will continue to work with Her Majesty The Queen, the Prince of Wales, the Dude of Cambridge, and all the important parties.
Social media went crazy, some baking their decision, and of course, some criticizing them. Some people said that the couple shouldn't rely on the taxpayer while they are trying to become financially independent. Others have wished them luck and are happy that they decided to step down from their rolls.
Reports have come in saying that Harry and Meghan didn't discuss their decision with anyone in the Royal family. The stories have even mentioned that some members of the family are disappointed that the couple didn't come to them before making this decision.
The Queen herself made a statement saying that discussions with Harry and Meghan have started and that they are at the early stages. She followed, saying that everyone in the family understands why they want to do such a thing, but they will need some time to work things out.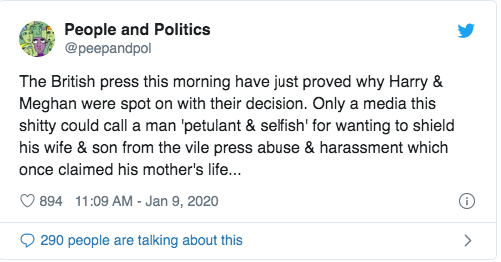 Harry and Meghan are now living free and can do whatever they want. Even though Harry will always be loyal to his family, Meghan can now focus her time on other ventures besides those of Royal protocol.
Not long after their announcement, reports have been coming in that Meghan has already found a new job offer. It has been reported that she will be voicing a new documentary about elephants. The documentary will be made by Disney, and Meghan will not profit from the work that she will do. All of her earnings will be donated to the Elephants Without Borders.
The documentary began streaming a couple of weeks ago, and you can watch it on Disney+. Even though Meghan is only lending her voice and not genuinely acting, it is lovely to see her back doing what she loves.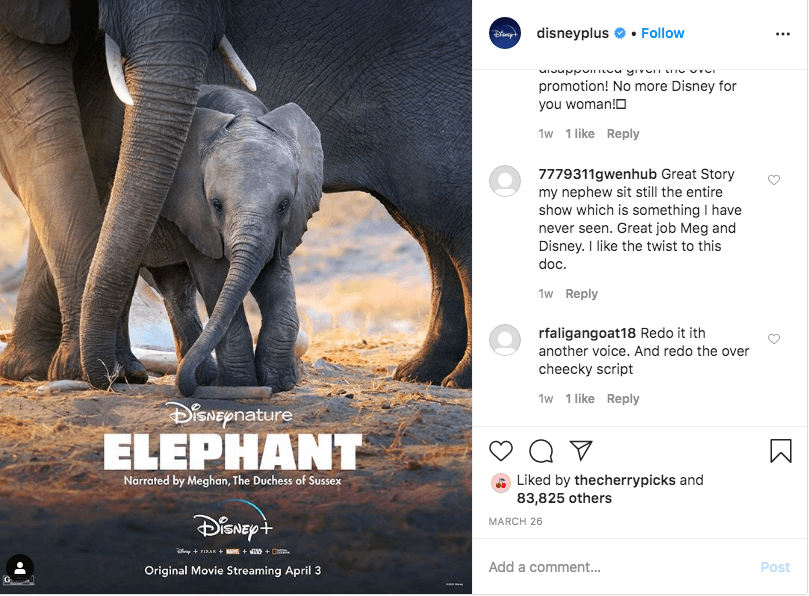 The first recording was done back in October, and in one of the following voice-recordings, Harry was there to support her. Some of the producers and filmmakers were happy that Harry was there to see his wife work. Vanessa Berlowitz, who was one of the filmmakers, has said that it was terrific seeing Harry cheer and support his wife while she was working.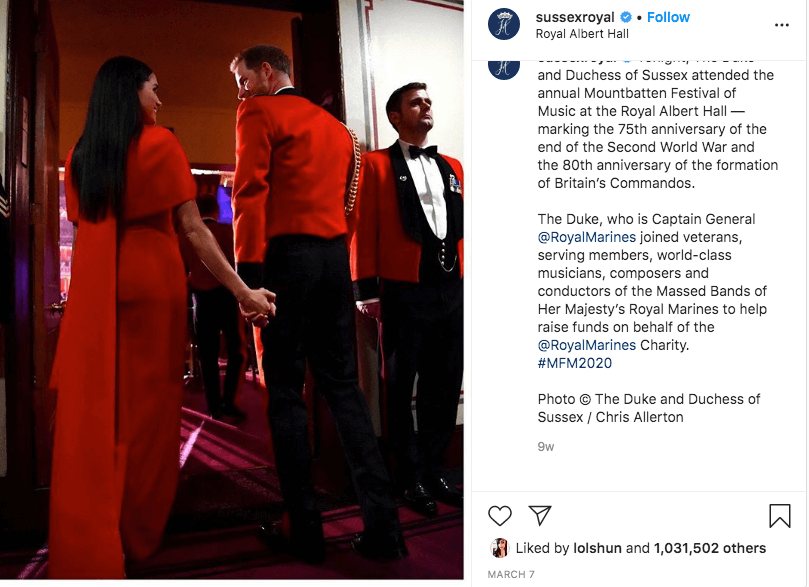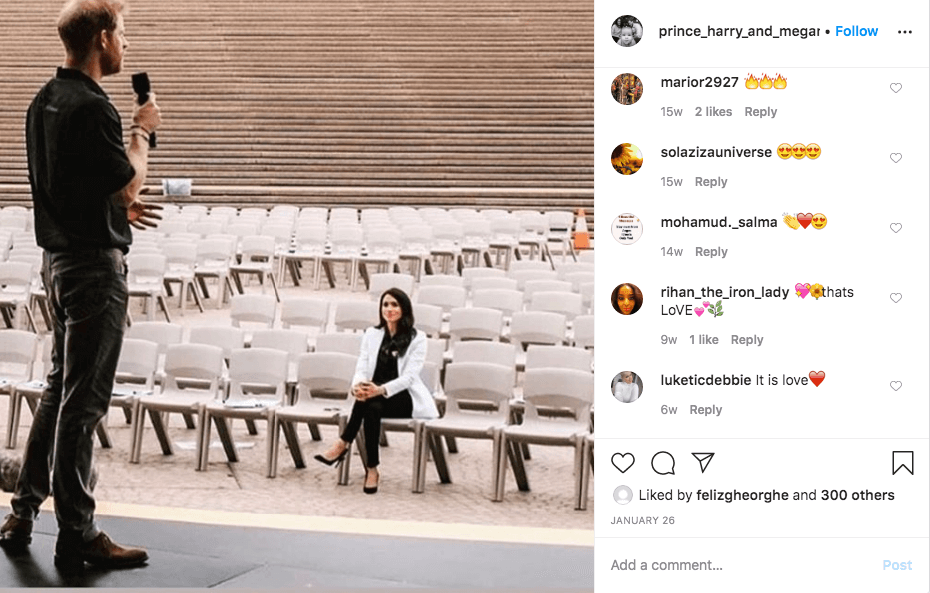 Harry himself has been involved in a special project. He has recorded the introduction to a special edition of the children's program about 'Thomas the Tank Engine.' This special program will be streamed on Netflix.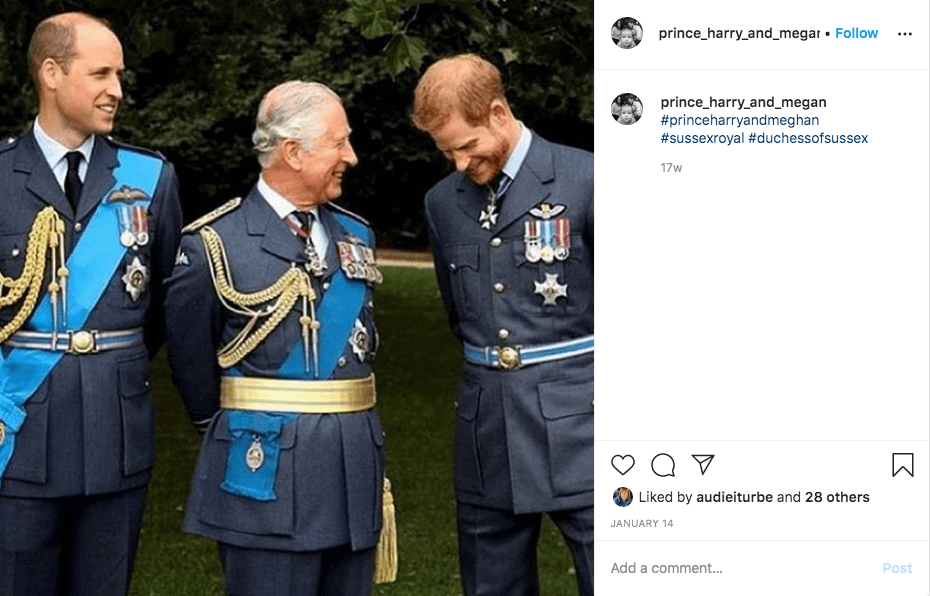 Just a few days left, and you will be able to see the program on the popular streaming platform. On the show, there will be some special moments, like seeing an animation of the Queen and Prince Charles when they were little children. It has been said that Harry recorded his part back in January before leaving the UK.