Being a hero knows no age. You can 8 or 80 and you can still have the ability to save someone's life. All that is needed is unconditional love sprinkled on top with a bit of courage, even if it means risking your own life for the sake of saving someone else. 
Being hit by a car can be a life-taking event. I remember in my childhood years, watching my cousin who was 7 at the time, being hit by a car on the beach. The driver wasn't speeding at all, she just didn't know how to drive properly, and from all the panic she kept pressing on the gas pedal, instead of the brakes. 
Imagine how terrifying it can be for a kid to witness a moment like this one. Sometimes (like in my cousin's case) it is not even the driver's fault, since kids like to play in the middle of the street. However, in most cases speeding while texting is the main reason for kids getting ran over. 
The kids in this story were lucky though, since someone was willing to sacrifice his life, just to save theirs. 
Bob Nill, praised by his students as Mr. Bob, had been working for more than 5 years as a crossing guard at Christ the King Parish School in Kansas City, made a heroic act this Tuesday, not everyone would be ready to do.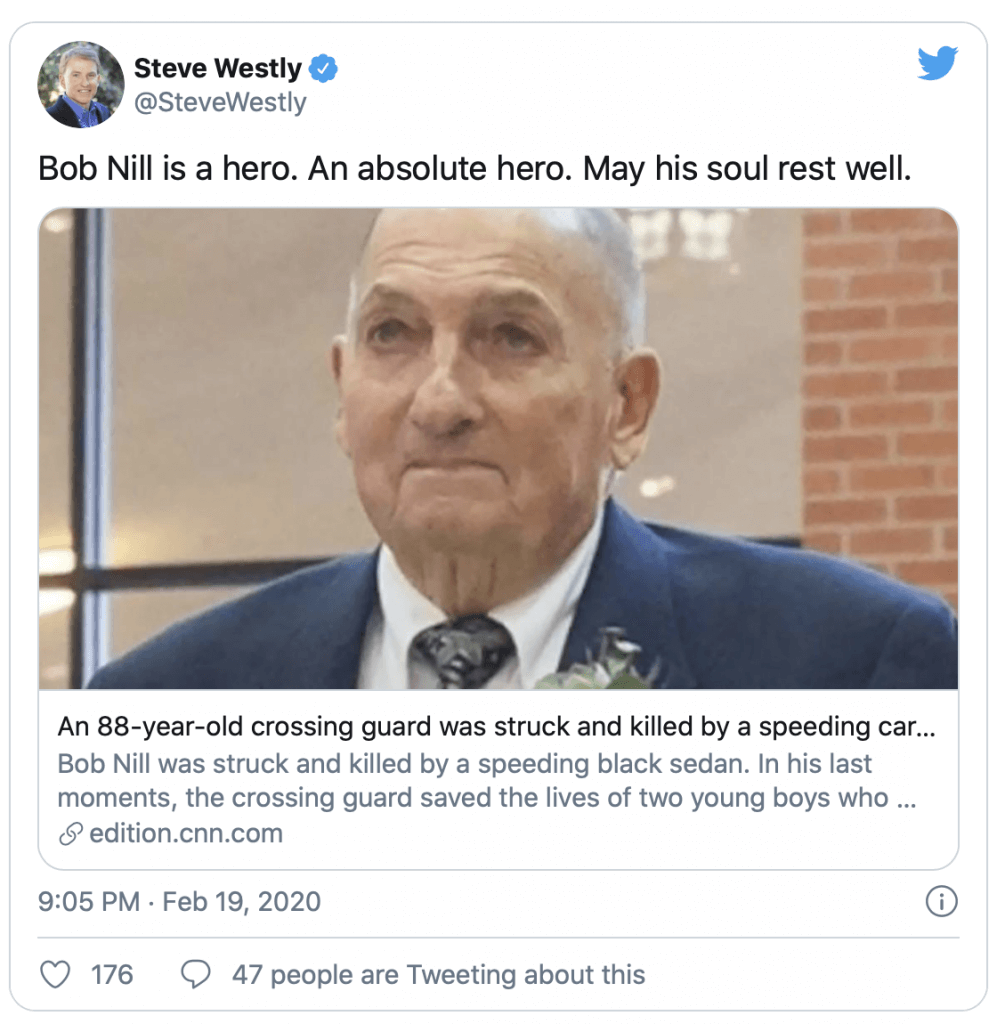 It was a normal working day for him. Standing on the crosswalk he saw two kids were about to cross the street. Suddenly, a black sedan appeared on the same track as them. Bob saw it and reacted fast by jumping in front of the kids' way to warn them. His warning did stop them from getting hit, but he didn't have time to get out of the way himself. 
It was 8 a.m, Tuesday morning. The casualty happened before the day even started and one life was exchanged for two. 
Bob had a loving heart and this was not unusual for his character. 
What Uncle Bob did for the sake of these kids, is something that not a lot of people in this society would do. Young lives mattered to him more than his own.
Nill worked firstly in banking and then served in the Coast Guard before he retired. But even after his retirement, he wanted to give back to people, therefore he decided to work as a crossing guard. 
His nephew, Randy explains the reason why he decided to work as a crossing guard was because he saw it as a way to help children. Such a thing made him feel good with himself. 
The same day Christ the King Parish School made a post on Facebook expressing their pain and condolences to the family and people who loved him. They also expressed their gratitude for his action. 
Bob Nill, what you did will never be forgotten. You might be gone physically, but your legacy will be remembered for a long time.