Since the coronavirus pandemic started, we all know that the most vulnerable individuals who experience the most symptoms are older people. A significant percentage of older people who have preexisting conditions and get infected by the virus end up losing the battle with it. 

William Lapschies, who has beaten the odds and recently turned 104-years-old, has recovered from the coronavirus right before his birthday. A couple of days ago, his whole family came outside of the veteran's home in Lebanon, Oregon, where he lived and waited for him to come out to surprise him for his birthday. He was brought out, and of course, everyone kept their distance, still following doctor's advice.
William started to show symptoms about a month ago, right before a doctor form the Edward C. Allworth Veterans' Home began to worry about the virus getting in the home and spreading among the elderly. A few days after William started to show symptoms, other residents showed symptoms as well. Everyone had some kind of respiratory illness, which is a significant indicator that COVID-19 has started spreading in the veteran's home. Dr. Rob Richardson, who is one of the doctors there, started doing tests, and everyone that had symptoms tested positive.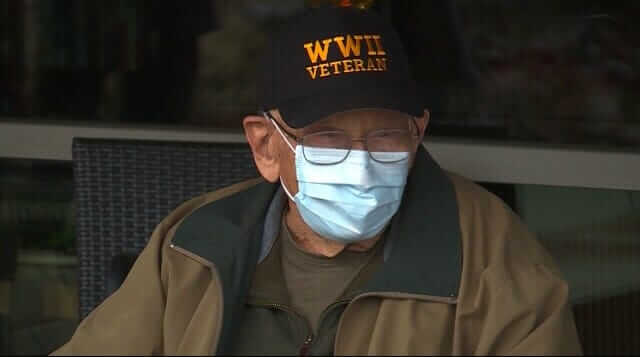 Until today, there have been 16 people that were confirmed positive, 8 of which have recovered, and 2 of them have died. Doctors at home thought that the oldest residents would have the hardest time and didn't think they would survive. Luckily for William, who has seen the days when Spanish flu was killing people everywhere, he had only minor symptoms. William has said that he didn't do anything special; he followed the doctor's advice and stayed in his room most of the time. 

On April 1st, Williams's family came to the hospital and waited for him outside in order to see him for the first time after he recovered and also to wish him a happy birthday. His family was pretty happy that their beloved William survived the virus, although they knew that he was pretty resilient because he has gone through difficult times in his life.
His daughter Carolee and son-in-law Jim want as many people as possible to see his story and have some hope that anyone can win in this fight against this invisible enemy.