Apparently, no one can run from Coronavirus. Not even the fastest man in the world, Usain Bolt. He is 34 years old and he has tested positive for COVID-19, and now he is self-isolating in Jamaica which is where he lives. He celebrated his birthday last week and he wasn't seen wearing any mask, so it is unclear whether he contracted the virus there or if he was already infected at the time of his birthday.
The news was confirmed this past Monday by the Ministry of Health in Jamaica as the 100m distance sprint champion, posted a video before getting the news about the results. Usain confirmed that he quarantined himself just to be safe, and keep everyone else safe as well. In the video, he is seen posting from his bed.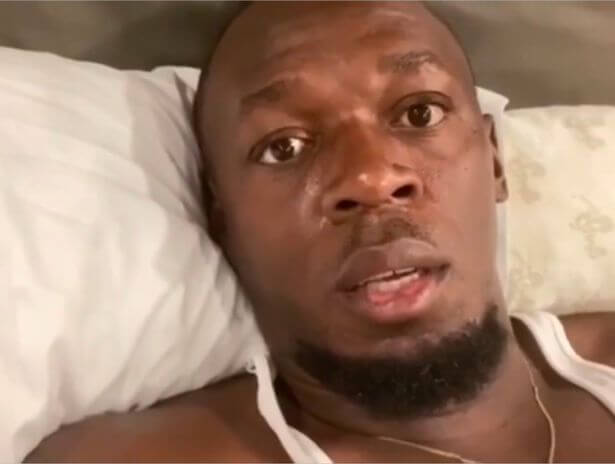 The fastest man in the world said that he had no trouble breathing and no symptom whatsoever from the virus. This is a very rare group of people who show no symptoms but still have the virus within them. Bolt said that he took the test the next day after his birthday which was on Friday. At the party, people were dancing near each other so it's unclear whether someone else contracted the virus or not.
Usain retired from athletics in 2017 and said that this was one of his best birthdays ever while holding his daughter.
Fans did not forget to wish him a fast recovery and all the best. There were some other people who accused him of being too careless and risking others around him.
Jamaica has a relatively low number of infected people with an average of 60 new daily infected people. In total there are 1612 confirmed cases in Jamaica out of which 16 have died and 622 cases are active. The authorities in Jamaica put the fault for the rising cases on the borders opening and the celebration of Independence Day and Emancipation Day.
The fault was also placed on the people who are too careless to wear masks while in public. The pickup of the infections has caused some concerns among the officials and they are calling for elections 6 months early expecting them to happen in September.
The reopening of schools has been delayed by one month and other businesses are not throwing events anymore such as parties, rallies, etc. This is really a time to be cautious about social distancing until we are sure that the danger is no longer within us.